CSS FTSE 350 Report
FTSE350


Market Report


CSS Partners Service Letter
Game Group PLC
GMG.L
Sector

General retailers

Last closing price
(29/06/2009) (p)
162
52 week High/Low (p)
291.75/101
Market Cap (£mn)
567.97
Sector weight age by
Market Cap (%)
2.04
Average Volume (mn)
1.91
P/E ratio (TTM)
6.66
Industry P/E
ration (TTM)
0.32
TTM: Trailing Twelve Month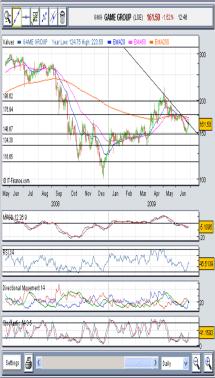 Daily chart (GMG.L)
Business background and investment rationale

Game Group PLC operates retail outlets specialising in computer software, video games and related products.

Strong final year sales

In preliminary results announced in April this year for the 53 weeks ended 31 January 2009, group turnover increased by 32.2% to £1.972bn. This compares with £1.492bn for the same period last year, with like for like (lfl) sales up by 8.8%. In the UK and Ireland, total sales increased by 25.7% and lfl sales were up by 10.7%. In international operations, total sales increased by 50.6% and lfl sales rose by 4.6%. The group's gross margin improved by 140 basis points which was attributable to an increase in margins for new and pre-owned software from 59.7% to 62.2%, as well as purchasing synergies from Gamestation. Game achieved ongoing synergies of £10m in the 53 weeks ended 31 January 2009 of which around £8m came from a reduction in the cost of sales and a further £2m from a reduction in operating expenses. The group is targeting a further £6m of synergy benefits for this year, giving an annualised rate of £16m going forward.

Resilient performance in economic downturn

Third generation platforms have reached 225 million in the UK and Game anticipates that these successful hardware formats will continue to drive demand for software during 2009. The company experienced exceptional consumer demand for a number of single format games including Mario Kart and Wii Fit on Nintendo Wii, Little Big Planet on Sony PS3, Gears of War 2 and Fable 2 on Microsoft Xbox360 and Brain Training and Professor Layton on Nintendo DS. Game has benefited from an expansion strategy which saw it open 23 stores in the year to June 2009. The group now trades from over 1,365 outlets with nearly half of the portfolio within international operations.

Technical outlook

On daily chart, Game has broken out from the downward trendline and rebounded from support of 150.0p indicating formation of uptrend. Stock has strong support near 150.0p and resistance near 175.0p, and it has to hold above 150.0p for a higher move. MACD (moving average convergence/divergence) is negative and 12 day EMA (exponential moving average) has cross above 26 day EMA indicating formation of uptrend. 14 day RSI (relative strength index) is below 50, but rebounded from oversold level and 14 day positive DMI (directional moving index) has cross above 14 day negative. ADX (average directional moving index) is near 20 indicating formation of uptrend.

Trading strategy

The stock can be bought around 158.0p with a profit target 176.2p and stop loss of 150.07p (Hedge position: short position in spread betting with £7.91 bet per point).

---
John Wood Group PLC
WG.L
Sector
Oil equipment services and distribution
Last closing price
(29/06/2009) (p)
261.25
52 week High/Low (p)
503.5/151.8
Market Cap (£bn)
1.34
Sector weight age by
Market Cap (%)
18.36
Average Volume (mn)
2.39
P/E ratio (TTM)
8.71
Industry P/E
ration (TTM)
1.2
TTM: Trailing Twelve Month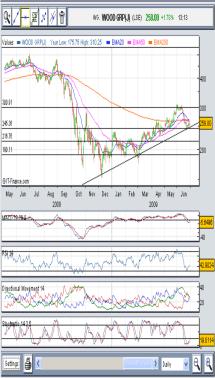 Daily chart (WG.L)

Business background and investment rationale

John Wood Group PLC is an energy services company operating in 46 countries, split across three business divisions: Engineering & Production Facilities, Well Support and Gas Turbine Services. The company provides a range of engineering, production support, maintenance management and industrial gas turbine overhaul and repair services to the oil & gas, and power generation industries worldwide.

Resilient performance in engineering and production facilities

In an interim management statement announced in May 2009, Wood Group's performance in the year to date was in line with expectations, thanks to a continuing focus on production support and longer term capital projects, wide international spread and a high quality customer base. The performance in Engineering & Production Facilities was driven by increased activity across all sectors in Engineering and the continued strong demand for Production Facilities in the North Sea and international markets. Recently, Wood Group was awarded FEED (Front End Engineering Design) services for Chevron's Jack and St Malo project in the Gulf of Mexico and pre-FEED work for ExxonMobil's Scarborough development in Western Australia. To strengthen its position in Asia-Pacific Wood Group acquired Proteus in Australia, a provider of commissioning, operations support and engineering services.

Rapid expansion in gas based power plants

Wood Group expects Gas Turbine Services to continue to be the leading independent maintenance provider for industrial gas turbines. Approximately 85% of revenue is derived from operational support activity and the company anticipates a resilient aftermarket performance in 2009. Wood Group's ability to locate, refurbish, install, warrant, operate and maintain equipment has secured a number of contracts to provide fast-track power packages in various locations including Ghana, Pakistan and the US. Wood Group is rapidly expanding its services in Asia-Pacific with a clear objective to increase its EBITA margin to 10% by 2010.

Technical outlook

On daily chart, stock has rebounded from 300.0p, but is still trading above support trendline from the December 2008 low. Momentum oscillator MACD is negative and 12 day EMA is below 26 day EMA indicating weakness in uptrend. RSI has rebounded from the oversold level indicating weakness in downtrend. 14 day negative DMI is above 14 day positive DMI, but ADX is near 20 indicating some consolidation at 250.0p. If stock has to make an uptrend it should consolidate above 250.0p. Stock has resistance at 300.0p, and support near 216.0p.

Trading strategy

Stock can be bought near 255.0p with a profit target of 284.4p and stop loss of 242.21p (Hedge position: short position in spread betting with £4.9 bet per point).

---
Stocks Update
Aggreko PLC

On daily chart Aggreko hit stop loss of 484.35p, but is still trading around the entry point of 510p. MACD is negative and 12 day EMA is below 26 day EMA indicating a sell signal. Stock prices are also trading below 20 and 50 day EMA confirming negative trend, but stock recently climbed above 200 day EMA indicating the long term uptrend is intact. RSI and stochastic are near to 30 indicating stock is oversold. Negative DMI is above positive DMI and ADX is above 25 indicating negative trend. All positions should be closed for the stock.

Kesa Electrical PLC

Kesa hit stop loss of 114.46p after making a low of 99.75p. Stock is forming a positive trend with ADX near 20, but negative DMI is declining above positive DMI. 14 day RSI is near to 50 and MACD is negative, while trend for both indicators are positive. It is also trading above 20, 50 and 200 day EMA indicating formation of uptrend. All position should be closed for the stock.

Important Information

This report has been issued by CSS Partners LLP ("CSS Partners"). CSS Partners is an appointed representative of Charles Street Securities Europe LLP ("CSS") which is authorised and regulated by the Financial Services Authority in the UK. It constitutes non-independent "investment research" as contemplated by the FSA Rules and is thus considered a marketing communication. This report was prepared by Kuldeep Bhati who is employed as an analyst at CSS Partners and as such does not conform with the FSA definition of independent investment research and as such is not subject to the rule of not dealing ahead of distribution of the marketing communication and was not prepared in line with the legal requirements for independent communication.

The report is provided solely for your information and may not be reproduced or redistributed, in whole or in part to any other person without specific consent of CSS Partners.

In the preparation of this report, CSS Partners has had access to publicly available information and other sources believed to be reliable. Whilst reasonable care has been taken to ensure that the facts stated herein are accurate and that the recommendations, forecasts, opinions and expectations contained herein are fair and reasonable, neither the author, nor CSS Partners, nor CSS has verified the public information upon which this is based. None of the author, CSS Partners, CSS or any of their respective directors, officers or employees (the "Parties") makes any representation or warranty, express or implied as to soundness of the recommendation, the accuracy or completeness of the information or opinions contained herein. Investors must make their own investment decision and not rely on this report. The Parties shall not be liable for any loss, costs, liability, expenses (together "losses") suffered by you following your utilising any of the services we provide other than losses arising directly as a result of fraud or wilful default on our part or as a result of any liability that may not be excluded under the UK regulatory system. In no event shall we be liable for special, indirect or consequential damages of any kind, even though we may have been informed about the possibility of such loss. You shall indemnify us and our officers and employees on demand and keep all such persons indemnified against all losses which may be incurred directly or indirectly by reason of or in consequence of providing this service save to the extent that such losses arise directly as a result of our, fraud or wilful default.

Any opinions, forecasts or estimates herein constitute a judgment as at the date of this report. There can be no assurance that future results or events will be consistent with any such opinions, forecasts or estimates. This information is subject to change without notice. It may be incomplete or condensed and it may not contain all material information concerning the Company. This document does not constitute or form part of and should not be construed as any offer for sale or purchase of (or solicitation of or invitation to make any offer to buy or sell) any securities nor shall it or any part of it form the basis of or be relied on in connection with any contract or commitment whatsoever.

Risk Factors

There is no certainty that the recommendations will be successful or that they will make money for investors.
There is no certainty that execution prices can be achieved, either in opening or in closing a position.
There is considerable risk operating in equity, futures, options and spread betting markets and investors need to be able to sustain a total loss of capital along with unlimited liability. Potential investors are recommended to consult a financial adviser before entering into such positions.

Regulatory disclosures

In accordance with the Conduct of Business Rules COBS12.4.7R (i) in the preparation of the report the analyst used price and volume charts provided by independent data suppliers and applied technical analysis tools of investment and trading evaluation in arriving at his recommendations, ii) all recommendations made by the analyst are followed up in subsequent reports until the closure of a position, iii) there is no certainty that any recommendation will be successful or that technical analysis should be used exclusively to arrive at investment decisions.
In accordance with section 12.4 of the FSA's New Conduct of Business Rules, CSS Partners makes the following disclosures:

CSS, CSS Partners and their respective officers, directors, shareholders and /or partners may have a shareholding in the companies reviewed in this report. They will not have access to this report until it is published, except those responsible for compliance issues concerning this report.

The research analyst responsible for the content of this research report certifies that: the views expressed and attributed to the research analyst or analysis in the research report accurately reflect his personal assessment about the subject securities and issuers and/or other subject matter as a appropriate and no part of his compensation was, is or will be, directly or indirectly related to the specific recommendations or views contained in this research report. On a general basis, the efficacy of recommendations is a factor in the performance appraisals of analysts.

The analyst is not involved in any other activity of CSS Partners or CSS that is inconsistent with his objectivity in preparing the reports. His research information is confidential, the only persons privy to this data bar the analyst are senior management. The research recommendations will be updated, but neither CSS nor CSS Partners accept any responsibility for any delay or interruption of service in the submission of reports or updates to reports.
Distribution of recommendations for the period 1st January to 31st March 2009:


| | | |
| --- | --- | --- |
| | % Distribution of recommendations | No of recommendation |
| Buy | 100% | 22 |
| Hold | 0 | 0 |
| Sell | 0 | 0 |
The first column displays the % distribution of recommendations made by CSS Partners in this Technical Analysis Trading programme and the second column shows the numbers of such recommendation. Neither CSS nor CSS Partners has any investment banking relationships with any of the companies covered in the Technical Analysis Trading Programme, namely the companies in the FTSE 350 index.
Your attention is also directed to the terms of our client agreement with you that covers the provision of this service. To the extent that there is any conflict between the above and the client agreement, the provisions of the above disclaimer will take priority.