Introducing NISAs – the new tax-efficient investing account
Monday 7th July 2014

The government offers generous tax breaks to encourage you to save, and one of the most popular and accessible is a NISA. A NISA, or New Individual Savings Account, is not an investment in its own right. The best way to think of a NISA is as a 'wrapper' in which you can shelter your savings and investments from tax.

What you need to know about NISAs

• Within a Stocks & Shares NISA you pay no capital gains tax and no further tax on any income. Within a Cash NISA you pay no tax on any interest.
• You don't need to declare NISAs on your tax return.
• Any UK resident aged 18 or over (16 for Cash NISAs) can invest. There is no upper age limit and you can withdraw your tax-efficient savings whenever you need.
• The amount you can invest into a NISA each tax year is decided by the government, this tax year the allowance is £15,000.

You may have heard of ISAs, NISA are their replacement, introduced 1st July, and the difference is that the rules are even more flexible and the allowance has been increased.
• In many cases, it costs no more to hold cash and investments inside a NISA than to hold them outside so investors can receive these benefits free.
• Used regularly, your annual NISA allowance offers you the chance to create a substantial portfolio sheltered from the taxman.
In fact, for those with the money to invest, we believe there is little reason not to open a NISA.
Please remember however, tax rules change over time and the benefit of sheltering your investments from tax will depend on your circumstances. The value of non-cash investments will fluctuate so you could get back less than inflation.

How to find out more about NISAs

Request your free Investors' Guide to NISAs to find out how to make the most of your allowance and what you can do to avoid common mistakes.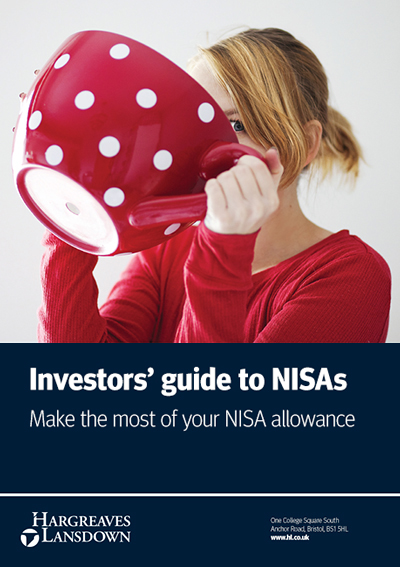 Feedback:
If you have any questions or suggestions about this article or our news section, please don't hesitate to contact us.
Editorial Contact Details
-
Conor Shilling
conor.shilling@angelsmedia.co.uk
0845 672 6000
Related News Stories
Most Read News Stories